It's been hot and steamy the past week, good for the pelagic fishing but not so much for the crew. Plenty of water, a bit of shade under the awning and Lots of sunscreen got us through and with the pelagics like mahi mahi, tuna and mackerel on the bite it was worth putting up with.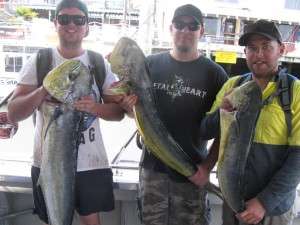 Over the past week we have had mainly full day charters with the top end of the banks being the place to be. You did have to get out early though with the northerlies picking up strength in the late morning. Species caught were red throat emperor, maori cod, amberjack, hussar, moses perch, trevally, fusilier, coronation trout, gold spot wrasse and squire from the bottom and mahi mahi, Spanish mackerel, cobia and mack tuna from the surface – The variety the sunshine coast reef fishing is renowned for.
In closer murphy's reef provided cobia, maori cod, squire, grey morwong, moses perch, tusk fish, spotted mackerel and some smaller mahi mahi while the Caloundra 9nm and 12nm produced mackerel, cobia, sweetlip, tusk fish, moses perch, hussar, pearl perch, squire, maori cod and estuary cod.
The next couple of days will be too rough for offshore fishing but things calm early next week and hopefully the run into Christmas is the same. If you would like to join us for a trip head over to our contacts page and flick us an e-mail or simply call 0429013012. Until then HAPPY HUNTING!!!!!!!