The last few days have been very busy and the pelagics have been giving us a good fight. We have caught some mahi mahi, wahoo and cobia from the surface and squire, maori cod, spangled emperor, red throat, tusk fish and moses perch off the bottom.
There was also some big cod, coronation trout, spanish mackerel, amberjack, maori cod, red throat, spangled emperor to name a few.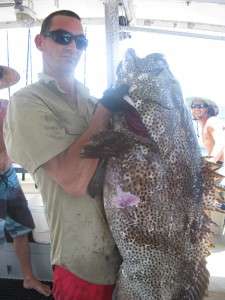 And this summer snapper caught on a half day charter to the Caloundra 12nm. Big fish for this time of year and fought hard in the shallow water, well done Sam! Keep posted for an update of the last 2 days and remember there is only 2 days left until Christmas if your looking for a gift voucher give me a call or visit us at the Kawana Shopping centre pop up shop until Boxing day.